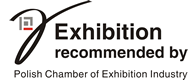 19.02.2018
The leading motive for arena DESIGN 2018, held in parallel to Meble Polska Fair, is POKOLENIA/GENERATIONS. Speaking of contemporary design, we must take notice of the experience and legacy of the elderly, yet we cannot ignore the vision and creativity of the young.
14.02.2018
This year's exposition of MEBLE POLSKA Fair will be as big as the one during the record 2017 edition. Among the exhibitors participating in the international furniture contacting in Poznań are all of the most important Polish furniture manufacturers and exporters interested in winning new sales partners.
25.01.2018
The 2017 edition confirmed the exceptional role of MEBLE POLSKA fair as one of the most effective tools to promote the exports of Polish furniture production. Increasingly often, the Furniture Fair in Poznań is listed in the elite group of the most important furniture industry trade fairs in Europe. See the Meble Polska 2017 video report...
More news
---

Next edition: MEBLE POLSKA Furniture Fair: 6-9 March 2018, Poznań, POLAND
Thousands of furniture buyers from around the world will come to Poznań to take part in the largest international furniture contracting event in Central and Eastern Europe MEBLE POLSKA, which will be held on March 14-17, 2017, in the exhibition halls of Międzynarodowe Targi Poznańskie. It is the only place in the world where the offer of the leaders of Polish furniture industry, i.e. the third exporter of furniture in Europe and fourth in the world, is presented in such a comprehensive way. It is the perfect place to buy furniture from Poland.