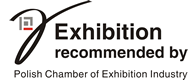 23.02.2017
The exhibition of the MEBLE POLSKA 2017 is really impressive. Please have a look at the exhibition map...
10.02.2017
We created on the Linkedin a group designed as a meeting forum for the furniture business professionals, who intend to visit Meble Polska fair. Join us!
09.02.2017
Furniture manufacturing is one of the fastest growing branches of the Polish industry. For more than a quarter of a century, our country has been producing more and more furniture with each passing year. In 2016, the total value of production in this sector reached 42.45 billion PLN, which represents an increase of 8% in relation to the previous year. In this way we have broken yet another record. According to estimates in the year 2017 the value of furniture production could even exceed 45 billion dollars.
More news
---

MEBLE POLSKA Furniture Fair: 14-17 March 2017, Poznań, POLAND
Thousands of furniture buyers from around the world will come to Poznań to take part in the largest international furniture contracting event in Central and Eastern Europe MEBLE POLSKA, which will be held on March 14-17, 2017, in the exhibition halls of Międzynarodowe Targi Poznańskie. It is the only place in the world where the offer of the leaders of Polish furniture industry, i.e. the third exporter of furniture in Europe and fourth in the world, is presented in such a comprehensive way. It is the perfect place to buy furniture from Poland.