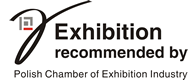 24.01.2017
Furniture can be crazy, creative and inventive. We have for you some interesting examples of modern furniture, which designers love to play with form. Enjoy watching. More furniture novelties already in seven weeks in Poznan at the international furniture contracting event MEBLE POLSKA 2017. Did you already pick up your free ticket for professionals on www.mtp24.pl?
13.01.2017
Poznan Furniture Fair MEBLE POLSKA has already accustomed the visitors to annual increases in the occupied exhibition space. It will be no different this year. In March, we will be having the best edition of this event in the 21st century.
10.01.2017
The stands of such impressive size as at MEBLE POLSKA can be found only at a few other fairs organized by Międzynarodowe Targi Poznańskie. Companies rent more and more exhibition space to be able to show thousands of furniture traders from around the world the largest number of new collections possible. So who will have the largest stand this year?
More news
---

MEBLE POLSKA Furniture Fair: 14-17 March 2017