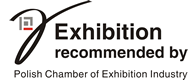 Foreign visitors profile
The MEBLE POLSKA 2017 Fair was attended by 24,226 people, including as many as 21,168 professional visitors, which means an increase by 4.2 percent as compared to 2016. Wholesale distributors of furniture and representatives of furniture store networks from 53 countries became acquainted with the offer of the exhibitors of MEBLE POLSKA Furniture Fair 2017, and visitors from abroad amounted to 33 percent of all participants.
Such a large presence of foreign traders at the Fair in Poznań is the result of several years of intensive promotion and information campaign conducted by Międzynarodowe Targi Poznańskie in key markets for the export of Polish furniture. It is also the effect of the changes in the Fair formula initiated in 2010, and since that time MEBLE POLSKA have started to have a strictly business, contracting nature.