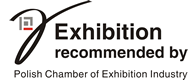 06.07.2018
The DREMA, FURNICA and SOFAB Fairs organized in Poznań constitute the most important centre for the purchase of machinery, components and materials for furniture production for manufacturers from across Eastern Europe. The 2018 edition will be attended by more than 500 exhibitors from several dozen countries.
27.06.2018
The exposition of the Drema, Furnica and Sofab 2018 Fair will be located in 10 pavilions. In the hall 11 will be held the 3rd National Furniture Congress. See the map...
27.06.2018
We present You the latest issue of Poznań Fair Magazine. We invite You to read both its paper and online version. In this issue we present the distinguished guests who visited Poznań International Fair in the recent months, provide reports on the spectacular fair and events, and present Arena Hall, which joined the group of objects managed by the Poznań International Fair. And moreover…
19.06.2018
Visit the official Facebook event page of the MEBLE POLSKA Fair 2018. We are going to publish there useful news for fair participants. Click the "Going" button and be always up to date!
18.06.2018
A lot of enthusiastic reports from Meble Polska 2018 Fair, the largest furniture contracting event in Central and Eastern Europe, were published in the international furniture industry media. We invite you to read some reviews from German, Italian, British, Romanian, Russian and Ukrainian press.
12.05.2018
The MEBLE POLSKA 2018 Fair was attended by 23,609 people, including 20,885 professional visitors. Wholesale distributors of furniture and representatives of furniture store networks from 59 countries became acquainted with the offer of the international furniture contracting event in Poznań.
08.05.2018
Only until 31 May can you take advantage of the promotional prices of participation in the FURNICA International Trade Fair of Components for Furniture Production, SOFAB International Trade Fair of Upholstery Fabrics and Components for Upholstered Furniture, and DREMA International Trade Fair of Machines and Tools for Wood and Furniture Industries, which will be held in Poznań between 11 and 14 September 2018.
09.03.2018
Meble Polska Fair - the largest furniture contracting event in Central and Eastern Europe - attracts each year crowds of traders from around the world interested in buying Polish furniture. The 2018 edition, hold on March 6-9, confirmed the exceptional role of this event as one of the most effective tools to promote the exports of Polish furniture production. Increasingly often, the Furniture Fair in Poznań is listed in the elite group of the most important furniture industry trade fairs in Europe