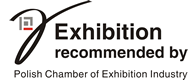 30.10.2017
We are presenting you with the latest interactive issue of Poznań Fair Magazine "Calendar of trade fair in 2018". It is absolutely unique publication onto polish market! We invite you to click!
15.09.2017
Journalists of the most important furniture magazines from all over Europe visited the MEBLE POLSKA 2017fair. Read their fair reviews from Poznań...
14.09.2017
Almost 150 furniture industry representatives participated in the 2nd National Furniture Congress, which took place on 13 September 2017 as part of the Drema, Furnica and Sofab Fairs. In the atmospheric interiors of the fair trade Spire, the participants sought answers to the question "How to become number one in Europe?"
13.09.2017
It was really a good business day here at the Drema, Furnica and Sofab 2017 Fair. See short edit from the first day of the exhibition...
06.06.2017
With great pleasure we present You the changed Poznań Fair Magazine. We invite You to read both its paper and online version. In this issue we present the distinguished guests who visited Poznań International Fair in the recent months, provide reports on the spectacular construction and furniture industry fair and announce the most interesting events of the next months. And moreover…
28.04.2017
The 2017 edition, held on March 14-17, confirmed the exceptional role of Meble Polska Fair - the largest furniture contracting event in Central and Eastern Europe - as one of the most effective tools to promote the exports of Polish furniture production. Increasingly often, the Furniture Fair in Poznań is listed in the elite group of the most important furniture industry trade fairs in Europe.
17.03.2017
Wholesale furniture distributors from ca. 60 countries arrived to Poznań to take part in the MEBLE POLSKA Furniture Fair 2017. This largest furniture contracting event in Central and Eastern Europe attracted this year more than 20.000 visitors from around the world interested in buying Polish furniture. We want to say thank you to all visitors and exhibitors!
16.03.2017
It was an unforgettable evening and a chance to meet among the furniture industry in less formal circumstances. Attraction of the event was a concert by Patrycja Markowska, that was part of the celebration of the 60th anniversary of Szynaka Meble. And at the end a party mounted by DJ Wiśnia...