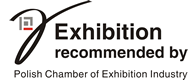 19.02.2018
The leading motive for arena DESIGN 2018, held in parallel to Meble Polska Fair, is POKOLENIA/GENERATIONS. Speaking of contemporary design, we must take notice of the experience and legacy of the elderly, yet we cannot ignore the vision and creativity of the young.
14.02.2018
This year's exposition of MEBLE POLSKA Fair will be as big as the one during the record 2017 edition. Among the exhibitors participating in the international furniture contacting in Poznań are all of the most important Polish furniture manufacturers and exporters interested in winning new sales partners.
25.01.2018
The 2017 edition confirmed the exceptional role of MEBLE POLSKA fair as one of the most effective tools to promote the exports of Polish furniture production. Increasingly often, the Furniture Fair in Poznań is listed in the elite group of the most important furniture industry trade fairs in Europe. See the Meble Polska 2017 video report...
18.12.2017
It has been 10 years since the Poznań International Fair organized the arena DESIGN for the first time. Participants loved the event for its various elements - including meetings with world-renowned designers. The inaugural jubilee edition will be conducted by a unique duo: Patrice Bert and Christian Werner. Both cooperate with the LIGNE ROSET brand.
30.10.2017
We are presenting you with the latest interactive issue of Poznań Fair Magazine "Calendar of trade fair in 2018". It is absolutely unique publication onto polish market! We invite you to click!
15.09.2017
Journalists of the most important furniture magazines from all over Europe visited the MEBLE POLSKA 2017fair. Read their fair reviews from Poznań...
14.09.2017
Almost 150 furniture industry representatives participated in the 2nd National Furniture Congress, which took place on 13 September 2017 as part of the Drema, Furnica and Sofab Fairs. In the atmospheric interiors of the fair trade Spire, the participants sought answers to the question "How to become number one in Europe?"
13.09.2017
It was really a good business day here at the Drema, Furnica and Sofab 2017 Fair. See short edit from the first day of the exhibition...