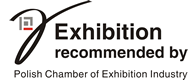 Thank you!
Wholesale furniture distributors from ca. 60 countries arrived to Poznań to take part in the MEBLE POLSKA Furniture Fair 2017. This largest furniture contracting event in Central and Eastern Europe attracted this year more than 20.000 visitors from around the world interested in buying Polish furniture. We want to say thank you to all visitors and exhibitors!
CurrentlyMEBLE POLSKA fair is one of the most effective tools of export promotion. The representatives of the most renowned purchasing groups and furniture store networks from almost all continents have visited  the fair, which was held on March 14-17.
Such an extensive presence of foreign traders at the Fair in Poznań is the result of several years of intensive promotional and information campaign conducted by Międzynarodowe Targi Poznańskie in key markets for the export of Polish furniture.