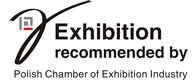 Opening hours for visitors
Tuesday (06.03): 10:00 - 18:00
Wednesday (07.03): 10:00 - 18:00
Thursday (08.03): 10:00 - 18:00
Friday (09.03): 10:00 - 17:00
Opening hours of the ticket offices
Tuesday (06.03): 9:30 - 17:30
Wednesday (07.03): 9:30 - 17:30
Thursday (08.03): 9:30 - 17:30
Friday (09.03): 9:30 - 15:30
Ticket prices
Ticket for professionals (furniture buyers) with registration*: 0,00 PLN
Single entry ticket for public without registration: 150,00 PLN
Information about tickets
* Registration involves filling out a registration survey at www.mtp24.pl or on-site at the tills fair, just before the entrance to the fair (based on a business card or company stamp).
To register are allowed those persons professionally connected with the furniture industry based on business card or stamp business. People outside the furniture industry are invited to purchase tickets without registration.

Children up to 13 years - free admission (only under adult supervision - teacher, tutor, parent).

PLEASE RETAIN YOUR TICKET UNTIL YOU LEAVE THE FAIRGROUNDS!
Invoices
Invoice for ticket bought in the ticket office

You can obtain an invoice at invoicing desks in open entrance lobbies in the trade fair opening times upon presenting a purchase receipt.
Location
Available ticket offices: Eastern Entrance, Northen Entrance, Western Entrance
Open entrances: Eastern Entrance, Northen Entrance, Western Entrance
Available halls: 3, 3A, 4, 6, 7, 7A, 8, 8A, 15
Międzynarodowe Targi Poznańskie sp. z o.o.
ul. Głogowska 14
60-734 Poznań
Car park
PERSON AUTHORIZED TO ENTRY IN PARKING IN THE MTP (entrance from the street Śniadeckich / Gate 1 or from the street Głogowska / Gate 9)

Car entry on the parkinf of Poznań International Fair is allowed only for those with authorizing documents (VIP card, the card issuer, activated earlier invitation).

ATTENTION! In case of the absence of on-site parking MTP people with valid documents will be directed to the car park at Matejki Street 63, where on the basis of mentioned documents will be able to benefit from the free parking space.

ATTENTION! At the entrance gates of Poznań International Fairs WILL NOT BE CONDUCTED sell of parking cards for people who don't have valid documents mentioned above.

All other persons invited to the on-street parking Matejko 63.

It is located 350 m from the fairgrounds. Open 24 hours a day. Suitable both for cars and coaches. You can enter the car park through two gates: at Matejki Street (main gate - open throughout the year) and at Ułańska Street (additional gate - open only during large trade shows).
Prices of the PIF car park located at Matejki Street:
Single-track vehicle (motorbike, bicycle): 2,00PLN/h
Passenger car: 4,00 PLN/h
Delivery van, truck, bus, car with trailer: 8,00 PLN/h
Admission rules
Documents authorizing to enter the fairs: TICKETS, INVITATIONS and VIP CARDS.

TICKETS
There are two types of tickets:

- SINGLE ENTRY TICKET FOR PUBLIC WITHOUT REGISTRATION – ticket can be purchased at the ticket offices of the fair during the event. Ticket authorize single entrance to the fair grounds during the events POLISH FURNITURE, HOME DECOR and arena DESIGN held on 6-9.03.2018.

- MULTI-ENTRY FREE TICKET FOR PROFESSIONALS - furniture buyers and companies involved in export, distribution and wider trade of furniture. Ticket can be generated on mtp24.pl or get in hand in ticket offices; to generate or receive such ticket one must fill out a registration questionnaire on web page www.mtp24.pl or at the ticket office. Ticket authorizes multiple entrance to the fair grounds during the events MEBLE POLSKA, HOME DECOR and arena DESIGN held on 6-9.03.2018.

INVITATIONS
Invitation can be printed or electronic. Can be delivered by MTP worker, exhibitor or another company allowed by MTP. Invitation authorizes multiple entrance to the fair grounds during the events MEBLE POLSKA, HOME DECOR and arena DESIGN held on 6-9.03.2018.

VIP CARDS
VIP card authorizes multiple entrance and car entry to the fair grounds during the events POLISH FURNITURE, HOME DECOR and arena DESIGN held on 6-9.03.2018 (subject to availability). Additional information about the privileges of the VIP card will be sent directly to the person entitled to receive such a card.

CLOAKROOM ON THE FAIRGROUND:
Payment: 2 PLN outerwear / 5 PLN luggage
Location: East Hall, West Hall, Pavilion 5, 6A, and between Pavilion 8 and 8A
Visitors section contact information
Kinga Dobrowolska-Baczkun
kinga.dobrowolska-baczkun@mtp.pl
+48 61 869 2697