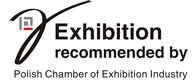 07.09.2018
The VR application and viewer, thanks to which you can easily show your client interactive visualization of furniture designed in the room, a programmable desktop height controller, remote controlled frames for beds and upholstered furniture, automatic cutter or a modern system to arrange apartment in a smart and convenient way – these are only some of the new products that will be presented at the stands by the exhibitors of the FURNICA 2018 International Trade Fair of Components for Furniture Production and the SOFAB 2018 International Trade Fair of Upholstery Fabrics and Components for Upholstered Furniture (Poznań, 11-14 August 2018). For furniture manufacturers, the Fairs in Poznań are an ideal opportunity to get acquainted with the latest offer of the market and gain a competitive advantage.
27.08.2018
This year, as part of the FURNICA Fair, one product was awarded the MTP Gold Medal! This honourable prize was awarded by the Competition Jury to the Tekform Slimline drawer manufactured by Titus Polska.
17.08.2018
For the third time, FURNICA and SOFAB Fairs will be accompanied by Polish Furniture Congress "POLISH FURNITURE – COMPETITIVE POLAND" organized by the Polish Chamber of Commerce of Furniture Manufacturers, Międzynarodowe Targi Poznańskie and Promedia company.
More news
---

Next edition: MEBLE POLSKA Furniture Fair: 12-15 March 2019, Poznań, POLAND
Thousands of furniture buyers from around the world will come to Poznań to take part in the largest international furniture contracting event in Central and Eastern Europe MEBLE POLSKA, which will be held on March 14-17, 2017, in the exhibition halls of Międzynarodowe Targi Poznańskie. It is the only place in the world where the offer of the leaders of Polish furniture industry, i.e. the third exporter of furniture in Europe and fourth in the world, is presented in such a comprehensive way. It is the perfect place to buy furniture from Poland.